"Divorce is the psychological equivalent of a triple coronary bypass." ~ Mary Kay Blakely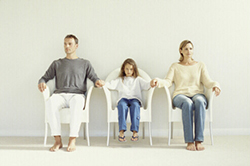 A divorce is one of the single most emotionally difficult experiences in a person's lifetime. Loss, abandonment, fear of the unknown, concern for children, and many other potential problems begin to surface as a divorce becomes the reality.
Both children and adults are faced with complicated emotional issues that can be crippling if not addressed. Neither you, nor your children, have to wade through these feelings alone.
In addition to the the emotional cost, the potential financial price can be staggering for both parties. In fact, many adults who are going through a divorce focus more time and effort into practical financial matters, rather than dealing with their feelings. Those same feelings may also make it difficult to find fair and equitable solutions, which in turn creates more emotional turmoil for you and your children.
But this is a cycle that can be broken with divorce therapy. Family therapy for divorce is one way to minimize the excessive financial and emotional cost of divorce. Dr. Scheckner is trained to help divorced parents and children sort their way through this difficult period with positive, pro-future advice. Emotionally healthy people will make less costly decisions and reduce the emotional and financial burdens of divorce.